Hits: 49
In a few weeks I'll begin the 360Bikers Ultimate Ride: a 40 day trip that touches all 48 lower states and DC. The ride, to me, is really several small rides (my perspective of small is different than most) put together with different themes.
The first section is the motorcyclists' ride to Washington, DC. Starting in north Georgia, we cross over into South Carolina and ride north into the Smokey Mountains of North Carolina. These are great mountain road with twists, turns, vistas and beauty around every corner. We use the Tail of the Dragon to head west into Tennessee before moving north to spend a night at my house in Knoxville. The second day covers mountains in Virginia, Kentucky and West Virginia as we head to Charleston. Day three has us doing some serious riding across the West Virginia Mountains and back into Virginia to Falls Church for the night. All of day four is spent touring Washington, DC as we explore monuments and museums.
The next section is one of my least favorite, but I've peppered it with some great sites to make it worthwhile. I am not a fan of urban riding, but… you have to do it on this ride. We cross DC into Maryland and take the Frances Scott Key Bridge across the Chesapeake Bay. We head into Delaware before heading north through New Jersey. We'll ride the Palisades along the Hudson River and cross the brand new Tappen Zee Bridge in New York. I'm sorta looking forward to that part. We then head east to Connecticut to spend the night. Day six will clip Rhode Island as we head to Boston to hike the Freedom Trail. A few souvenirs and a meal later, we head north into New Hampshire on our way to Brunswick, Maine. Day seven we cross New Hampshire into the mountains of Vermont. I'm looking forward to these. Exiting Vermont, we come into New York and spend a night in Schenectady. On the eighth day we ride the mountains of New York into Pennsylvania and get really fresh ice cream at Eder's Dairy before heading to my home town, Lock Haven.
Section three is very destination oriented. Day nine starts with some mountain roads I would ride when I was young and eventually dumps onto I-80 to Cleveland. This starts more flatland and urban bursts. The tenth day we start the morning at the Rock and Roll Hall of Fame. After an afternoon start, we head west, nick Michigan (we did a big ride last October to Traverse City) and stop in Elkhart, Indiana, just east of Notre Dame. Our next day takes us into Illinois, riding past Chicago to Milwaukee, Wisconsin to visit the Harley Davidson Museum. Then, we leave the area for Dubuque, Iowa to spend the night. Day twelve rides west and north to Spirit Lake to see the Indian Motorcycle Factory Experience. We'll spend the night in Sauk Centre, Minnesota to prepare for a long ride on the last day of this section. Day thirteen will clip North Dakota before heading to Pierre, South Dakota for a rest.
Section four begins the awesomeness of the west. We begin by riding into the Badlands National Park before stopping at The Wall Drug Store. From here, we head to Sturgis for our 5,000 mile oil change that is now due. Day fifteen will explore the Black Hills, Iron Mountain and Mount Rushmore. This is a day of incredible riding that covers only 229 miles, but will take about 6 hours of riding, not including stops of any kind. On the sixteenth day we head west to Devil's Tower before crossing Big Horn National Forest in Wyoming. I rode this two years ago and loved it. We'll spend the night in Cody. Day seventeen will be brutal in miles and hours, but incredibly dynamic as we head to Red Lodge for breakfast before riding through Beartooth Pass. This is incredible on its own, but then it empties into Yellowstone National Park!!! We'll ride to the water falls, beside bison, visit geysers and pools before leaving the park to head north to Bozeman, Montana.

This section is full of intense scenery and riding. The eighteenth day is our hardest and longest day of riding, we hope. If they finish the road work in time we will cross Glacier National Park on Into the Sun Road. The scenery in this 50 mile stretch is beyond belief. If we can't, one of our contingency plans includes Lolo Pass. We head west and camp in Troy, Montana. The following day we enter the Cascade mountains of Washington, riding towards Spokane. After spending a night there, we head to just north of Seattle to finish the Cascade Mountains and visit the Grand Coulee Dam.
From here we enter a section for the west coast. First, we have time to see the Seattle Space Needle before riding south to The Dalles in Oregon for another camping night. This scenic route will see (in the distance) Mount Rainier and Mount St. Helens. The twenty-third day crosses dense Oregon mountain roads to Coos Bay for the night. Heading south along the Pacific Coast Highway, we enter California and ride through the Avenue of the Giants. I rode this about five years ago and it is humbling. We'll spend the night in Ukiah, California. Most campgrounds are closed as they house forest fire refugees. Day twenty-four cuts west on Mountain View Road to the PCH again. We ride these great roads through Muir Woods and cross to the central part of the state towards Fresno for the night.
The Southwest Section begins here as we finish California by going through Lake Isabella Pass into Nevada as we head to Las Vegas for the night. I might need new tires by now, so I'll have an appointment. On day twenty-six we cross the Hoover Dam into Arizona to head towards Prescott and Sedona. Riding north through the red rocks, we spend the night in Flagstaff after doing a bit of Route 66. The twenty-eighth day of our journey start the morning with the Grand Canyon. We ride around the east end before heading north and west again through Marble Canyon and Vermilion Canyon on our way to Zion National Park. We'll camp outside the park and the next morning, ride through the park again heading east to Bryce Canyon National Park and Capital Reef National Park. This will be an extraordinary part of the ride as we pull into Moab, Utah. Day twenty-nine is dedicated to hiking two of the most famous national parks: Arches National Park and Canyonlands National Park. These have always been large on my bucket list. This is sort of our last day for the southwest section of the ride.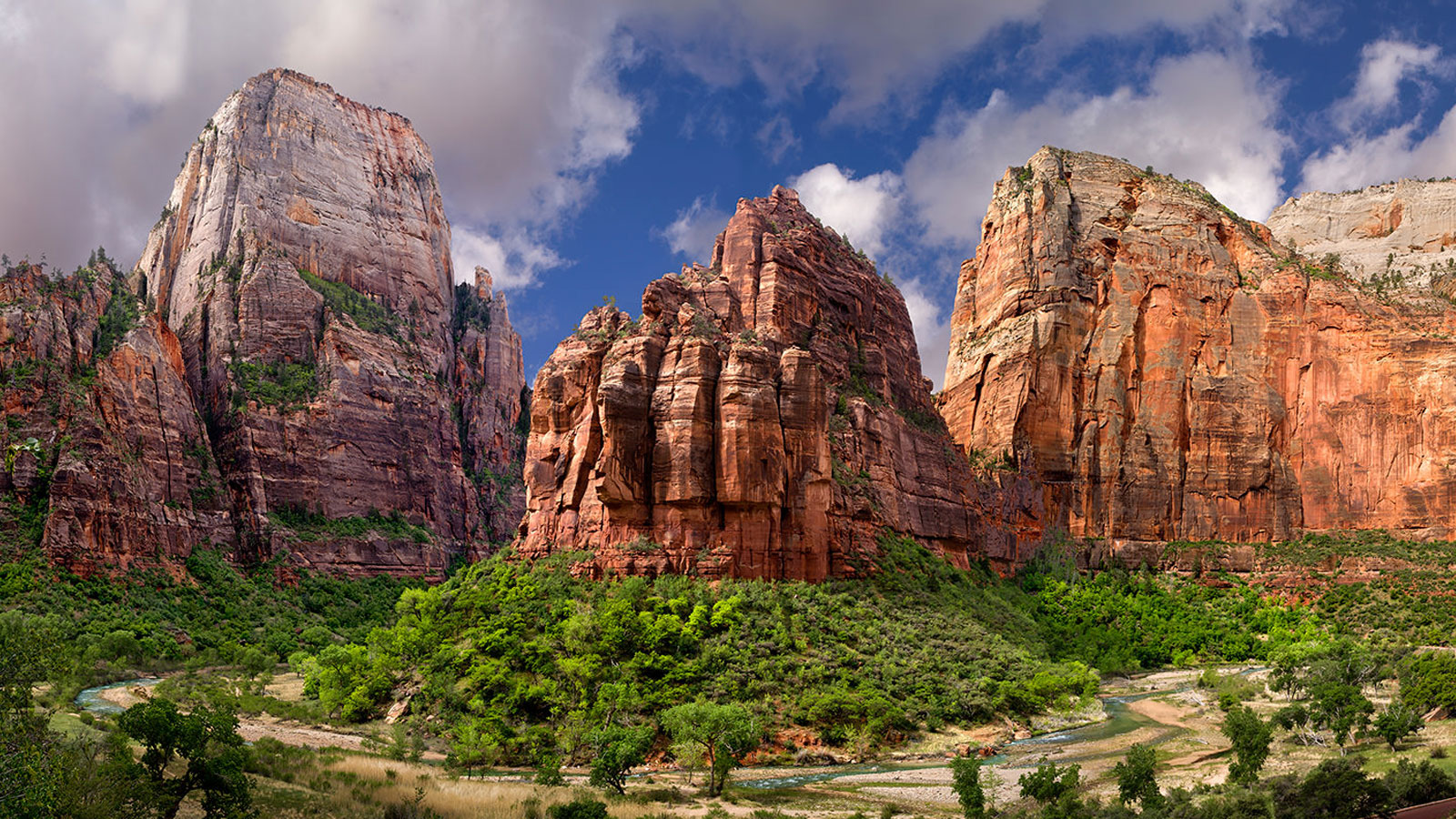 The Flatlands Section starts out with anything but flatlands. We head south to the Four Corners National Monument where Utah, Arizona, Colorado and New Mexico meet. We finish up heading to Durango, Colorado at the base of the Rocky Mountains. We're due for oil changes now at the 10,000 mile mark. Appointments must be made. On day thirty-one we are headed into the Rocky Mountain National Park and camp just west of Edwards after doing the Million Dollar Highway. Why did I call this "Flatlands?" The next day we head into some of the most severe mountains heading north before turning east through Poudre Canyon. Then, the land flattens out as we meander to Scott's Bluff, Nebraska. On day thirty-three we catch Lake McConaughy before heading to Garden City, Kansas. I'm starting to see why this is the Flatlands section. After this, we ride to Norman, Oklahoma for the night. Day thirty-five ends this section after we ride to Dallas and see the sights.
The next three days create a special section for the Ozarks. Leaving Texas for Arkansas, we begin riding some of the nicest mountains with beautiful scenery. The second day of the Ozarks takes us up to Salem, Missouri on great, winding roads with sweeping turns. The thirty-eighth day heads out of the Ozarks and into Mississippi for some rest.
This is the Home Stretch. From here, we head south to Louisiana and have lunch in the French Quarter at Napoleon House. We'll ride back into Mississippi to spend our last night in Gulfport. The fortieth day heads across Mobile, Alabama into Pensacola, Florida. Here we visit the Naval Aeronautics Museum before our final meal together at MacQuires famous Irish Pub. Riders make their own schedules and routes home from here. I'll spend the night before riding the 512 miles home.
This will be the Ultimate Ride. I will severely damage my bucket list and revisit many great places I've seen before. I hope you can join me for at least a little of this ride.